Frequently Asked Questions
FAQ's
Do I need to bring anything?
Yes, sunglasses, hat/cap, sun cream, camera and wear comfortable flat, non slip footwear, such as trainers or deck shoes (no stilettos are allowed on board!). Dress warmly and bring waterproofs as the weather can be unpredictable and sometimes there is a high wind-chill factor aboard the boat despite the heat of the sun. It is essential to wear sun cream even on overcast days. If you plan to lunch on board, please bring all food and drink.
Are there any fitness requirements?
There are no specific fitness requirements but good mobility is essential for being safe on the boat. This experience is not suitable for anyone with a serious back or heart complaint or for pregnant women.
What restrictions do you have?
People of all ages are welcome. Please note: Children must wear a life jacket supplied by us at all times (even on the pontoon).
Do you have disabled access?
Sorry, due to the nature of the boat, there is no access for wheel chairs - partially disabled people are most welcome, please call to discuss special arrangements or requirements prior to booking.
Yes, we hold Public Liability insurance for £3,000,000, a copy of which can be provided on request.
Is there a car park close by?
Yes, you can park at Falmouth Marina.
If I arrive very early is there anywhere near that I can have breakfast or lunch?
Yes, at the Upper Deck Bar & Restaurant, Falmouth Marina.
Is there anywhere nearby to stay overnight?
Yes, there are plenty of places to stay in and around Falmouth - hotels and bed & breakfast accommodation.
Does the charter price include fuel used?
No, the charter price is a flat fee and any fuel for the time of the charter is charged extra.
Do you ever have any spare places on the day?
There may be the opportunity of a spare place on the day of your charter, it is always worth asking so that we can provide up to date information. Payment can be made on the day.
Is the charter weather dependent?
Yes, the charter could be cancelled if severe weather is forecast, or if conditions deteriorate during the charter unexpectedly. Weather forecasts are checked regularly prior to the charter. The decision is made by the Skipper and is not open to negotiation.
No, we are the owners of Windana and have been running charters for over 9 years. You will be purchasing your charter direct from us.
Testimonials
Amazing day out, best day of our holiday for kids and adults!
Thank you for an unforgettable trip - a really wonderful experience.
It is difficult to imagine a more perfect place in the world to spend a day.
News & Events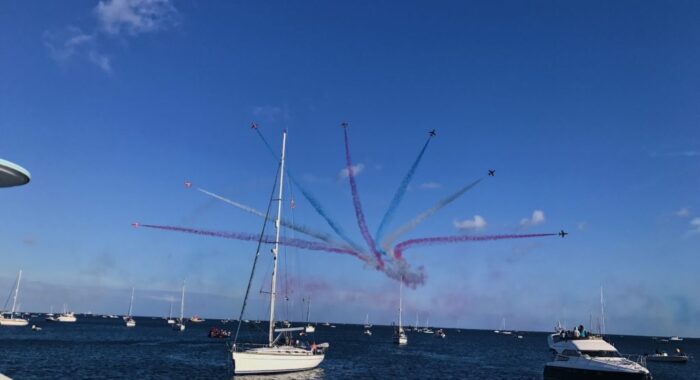 Falmouth Week 5th – 14th August 2022
Falmouth Week is a great week of racing for keelboats, traditional craft and dinghies in the waters off Falmouth Bay, the Carrick Roads and the harbour. Wednesday is Champagne Day, a race for the big yachts with a 25 mile coastal course finishing in the inner harbour, whilst smaller boats race in the Carrick Roads. […]